GRABBE, L. L. (ed.) Even God Cannot Change the Past: Reflections on Seventeen Years of the European Seminar in Historical Methodology. London: Bloomsbury T&T Clark, 2018, 256 p. - ISBN 9780567680563.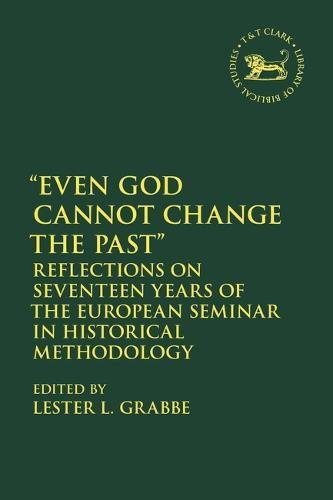 This volume represents the final publication of the European Seminar in Historical Methodology. The volume reflects on the ground-breaking work of this prestigious seminar in the field of biblical history. In part one, long-term members of the seminar (Bob Becking, Ehud Ben Zvi, Philip R. Davies, Ernst Axel Knauf, Niels Peter Lemche, Thomas L Thompson) provide reflections on its work. Part two presents an opportunity for readers to benefit from contributions that have remained heretofore unpublished. This includes material on the Persian period, questions of orality and writing, and contributions on the Maccabean period. Bringing these papers together in a published form provides a fitting way to round out the work of this significant endeavour in historical methodology.
Diz o título que "Nem mesmo Deus pode mudar o passado". A obra traz reflexões sobre os 17 anos do
Seminário Europeu sobre Metodologia Histórica
.
São três partes: na primeira, participantes do Seminário refletem sobre seu trabalho; na segunda há contribuições que não tinham sido publicadas; na terceira, uma avaliação feita por Lester L. Grabbe, coordenador do Seminário e editor das publicações.
Part I: Statements on and Evaluations of the Seminar
1. Why Start with the Text? The Fall of Samaria Revisited – Bob Becking, University of Utrecht, Netherlands
2. Clio Today and Ancient Israelite History: Some Thoughts and Observations at the Closing Session of the European Seminar for Historical Methodology – Ehud Ben Zvi, University of Alberta, Canada
3. 'Just the Facts, Ma'am!' Reflections on the ESHM – Philip R. Davies, University of Sheffield, UK
4. Vingt Ans Apres: A Personal Retrospective – Ernst Axel Knauf, University of Bern, Switzerland
5. The Future of Israel's History – Niels Peter Lemche, University of Copenhagen, Denmark
6. The Problem of Israel in the History of the South Levant – Thomas L. Thompson, University of Copenhagen, Denmark
Part II: Tidying Up . . .: Publication of Papers from Sessions Not Published
7. 1997 Session: From the Volume, Leading Captivity Captive (1998)
8. The Exilic Period as an Urgent Case for a Historical Reconstruction Without the Biblical Text – Rainer Albertz, University of Münster, Germany
9. 2008 Session in Libbon on the Oral, the Written, and Cultural Memory
10. Cultural Memory in Practice: Ezra and Nehemiah – Philip R. Davies, University of Sheffield, UK
11. The Oral, the Written, the Forgotten, the Remembered: Studies in Historiography and their Implication for Ancient Israel – Lester L. Grabbe, University of Hull, UK
12. 2011 Session on Thessaloniki on the Maccabees and Thessalonians
13. The Relation between Samaria and Jerusalem in the Early Maccabean Period Revisited: A Case Study about the Reception of Phinehas – Tobias Funke, University of Leipzig, Germany
14. From Philadelphus to Hyrcanus: A Shorter Path between the Formation and the Canonization of Biblical Historiography – Philippe Guillaume, University of Bern, Switzerland
15. Joshua Maccabaeus: Another Reading of 1 Maccabees 5 – Ernst Axel Knauf, University of Münster, Germany
Part III: Conclusion
16. Seventeen Years of the European Seminar in Historical Methodology: A Personal View of the Results – Lester L. Grabbe, University of Hull, UK